Heartburst recently facilitated a digital discovery process with Neami, a national mental health service provider.
Background
Neami is a not-for-profit organisation providing mental health, homelessness and suicide prevention services across Australia. People from all backgrounds living with mental ill health come to Neami to achieve positive outcomes. Neami partners with the Australian Government to deliver many of its services including Head to Health, Connect to Wellbeing, and various emergency mental health response centres around the country.
The need
Neami approached Heartburst with a website that was not meeting the needs of their stakeholders, as well as 8 microsites scattered across their digital ecosystem. There were numerous pain points:
The user experience lacked focus and was geared towards health professionals instead of service users
Websites were built on multiple CMS platforms, causing confusion between staff teams
There was no integration with CRM platforms to streamline information flow
Branding and design across the sites was inconsistent
Search performance was lacking
As a mental health service provider, Neami's imperative is to reach as many service users as possible, to maximise their positive impact. They recognised that their online presence is the first port of call for prospective clients, and were pursuing the opportunity to deliver a better digital experience.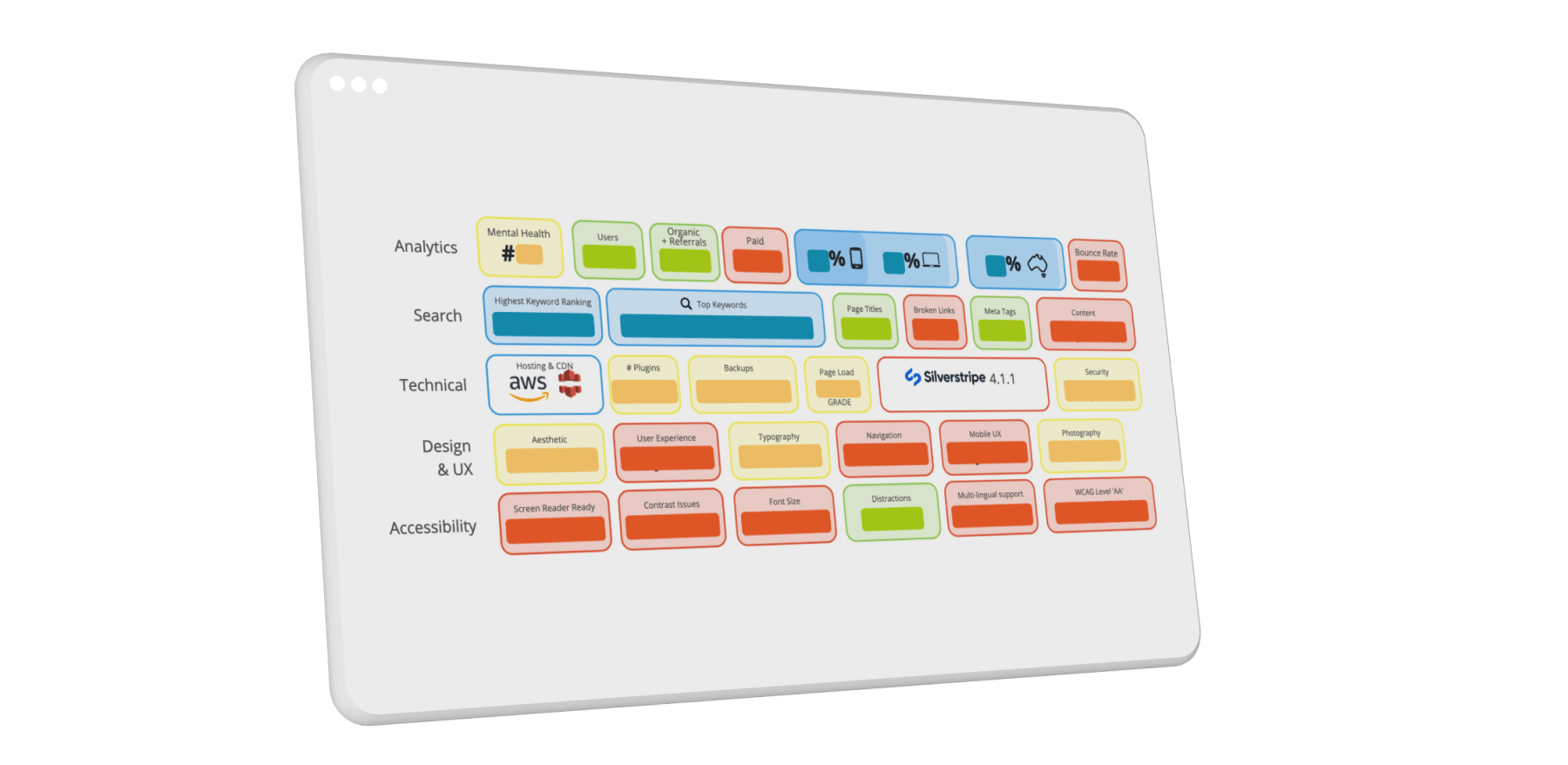 Our approach
We provided digital discovery services that included research and development of requirements for a new Neami National website.  To fulfil this engagement, we facilitated several discovery activities, the outcomes of which were combined into a project specification.
Website audits
A multifaceted audit of all Neami web assets was conducted, covering website health metrics for analytics, search, technical, design/UX, and accessibility.  The workload for auditing the 9 websites was shared across our team so that our specialists could audit each stream accordingly.
Competitor analysis
We analysed Neami's current digital governance environment and competitor / partner landscape, as well as identified current digital trends in mental health.  This data was delivered in infographic format for easy reference.
Usability testing
We facilitated usability-testing with a diverse range of Neami consumers, from all over Australia.  Our usability testing process includes in-person or online interviews, where we observe website usability according to a list of tasks we ask the user to complete. We love meeting website users as their input is full of valuable insights for user experience design… it's also great to meet new people and hear different perspectives!
Once the interviews were completed, we compiled the data collected into a spreadsheet format where we analysed the results. It's always fascinating to see common blockers that haven't been previously addressed.
Workshops
Our established discovery workshop methodology was ideal for Neami who had a large group of internal stakeholders.  We ran two days of human centred design workshops, allowing us to deep dive into the mindset of website user personas.
We keep our workshops upbeat, fun and engaging whether people are attending the Heartburst office or online. Over the two days Neami attended we covered:
Project objectives
Metrics for success
Brand and design brief
Persona analysis and prioritisation
User journey maps
User story writing and prioritisation
Information architecture
Based on our research and the user stories generated in our workshops we were able to recommend a new site map, optimised for key personas. The site map had a particular focus on prospective service users.
In addition to the site map, we created a content outline which cast a vision for Neami's new website. The content outline provides detailed specification on the content and function of each webpage, cross referencing the user stories with their corresponding page.
Digital governance
We also developed a series of findings and recommendations around digital strategy and governance.  These recommendations relate to, but do not directly affect, the website specifications provided.
Positive impact
For a person suffering from mental ill health, finding help can be pivotal in quality of life, stability of relationships, or even a life or death situation. That's why it was so important for Neami to create a digital experience that is designed specifically for those who need their services most.
The process of digital discovery, using a human centred design approach, is critical to planning an effective website or app. The thorough approach we took with Neami resulted in a project specification that captured the needs of real people. It was satisfying to deliver a specification that can be translated into an intuitive user experience, confident that our plans are based on quantitative and qualitative data.
Neami were able to use our recommendations with their web team to launch a new website that makes finding mental health help more accessible to thousands of people around Australia.
What does digital discovery look like for you?
Perhaps you are planning your next web project and not sure where to start? Digital discovery is all about setting your objectives and creating a solid brief, based on human centred design principles.
At Heartburst, we offer digital discovery options to suit your budget. For smaller website projects, we offer an express discovery process that covers the essentials to plan a user-centric site map. Our full discovery workshops are designed for mid-sized nonprofits and explore success criteria, persona analysis, and user story writing, resulting in a detailed information architecture. If you're embarking on a large-scale digital project, we can dive even deeper with additional discovery services such as competitor analysis, usability testing, website audits, UX research, and technical architecture.
Getting discovery right leads to successful digital projects, and ultimately the expansion of your organisation's positive impact.
Learn more about our digital discovery services for non-profits.