Our work on the Australian Early Psychosis Collaborative Consortium (AEPCC) website has been recognised as a finalist in the 2023 Australian Web Awards, Health and Wellness category.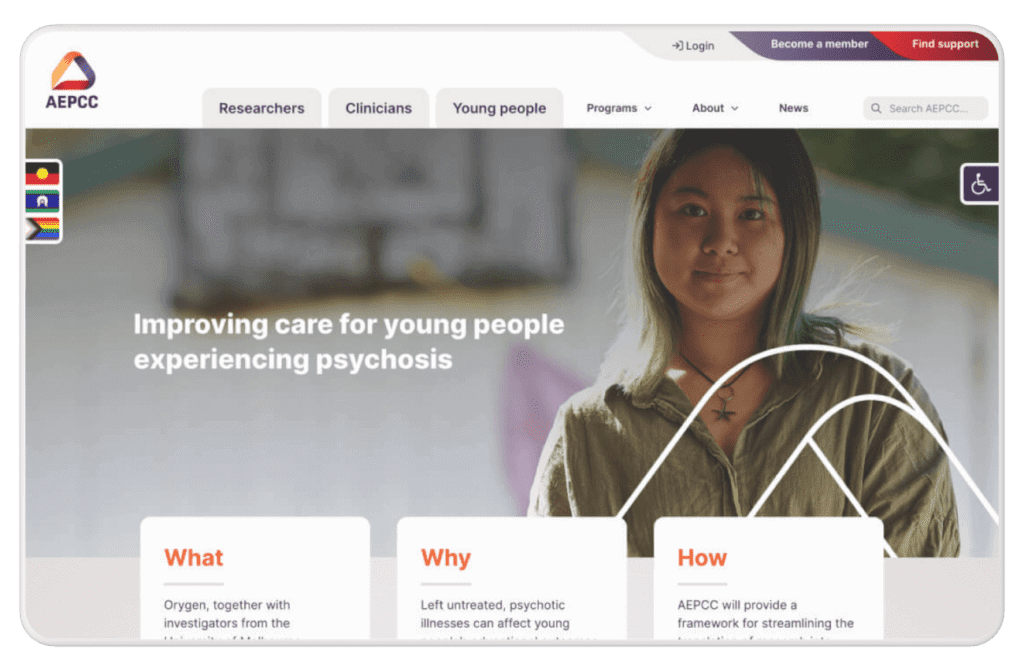 The AEPCC website introduces an innovative new initiative to improve care for young people experiencing psychosis. The website has been designed to inform the research and clinical community of this new concept, while providing a sensitive and safe space for young people experiencing mental ill health.
The Challenge
In summary, our brief was to kick start something brand new. AEPCC is a newly established consortium in the mental health space, spearheaded by Orygen in Melbourne and funded by the Wellcome Foundation (UK). It was our role at Heartburst to design a highly engaging user experience that introduced researchers, clinicians and young people to AEPCC's programs.  
From an aesthetic perspective, we needed to build on established branding guidelines to design a smart look that appeals to our broad personae while avoiding a clinical feel.  The user experience needed careful planning to ensure each audience could find relevant information with ease. There are three key programs being introduced by AEPCC: a clinical trials network for researchers, a clinical quality registry for clinicians, and a lived experience network for young people. This design needs to facilitate important work that will create positive outcomes for young people.
Our approach
The design process kicked off with a discovery phase facilitated by Heartburst. Our discovery workshop took a human centred design approach to conduct personae analysis, user journey mapping and collaborative user story writing. The outcomes of discovery were documented in the project charter which included a recommended information architecture.
Wireframes were designed for all key pages on the website, prior to moving to visual design.  Initial creative concepts came next with design mockups being created in Figma. Accessibility and inclusivity was a key consideration throughout the design, so allowances were made for colour contrast ratio, readability, and access controls.
Orygen commissioned a photoshoot to capture young people from their lived experience community. Having authentic photographs lifts the engagement with any web design
Once the draft website was populated with content, we conducted usability testing with members of the lived experience community at Orygen in Parkville, Victoria. This process was fascinating and uncovered a number of user experience adjustments that we were able to implement.
The AEPCC website was launched in March 2022 at the Society for Mental Health Research conference in Hobart, Tasmania. 
Outcomes
The AEPCC website provides high visual impact while supporting a clear user experience, ultimately delivering a highly effective solution for an important new initiative.  Functionally, the site is designed to be device independent for ease of use on any device, and the subtle use of animation on brand elements creates a calming feel and a welcoming space.  
Accessibility considerations create a need for best practice website development and measured design decisions.  Our integration of the accessibility toolbar within the design feels natural along with the diversity flags, without derailing the overall aesthetic.  Our user experience is very focussed with our top 3 user personae highlighted on both desktop and mobile navigation menus.
Safety is a key issue when working with young people living with mental ill health, and the inclusion of a "Find support" call to action button in the prime position at the top right is crucial to this.  In addition, there is an alert that appears on a user's first visit to inform them about available help in case of mental health crisis.  
Overall, the AEPCC website is a vibrant solution to a challenge that could easily have been interpreted as cold and clinical. 
Usability Testing
Having the opportunity to conduct usability testing with lived experience community members was certainly the most exciting aspect of this design.  Young people who have experienced mental ill health can have a unique way of navigating the world around them and we were very thankful for their participation and feedback.  Their input highlighted gaps in our design which we were able to close, ensuring the site is fit for purpose. While we always aim to be empathetic in our design practice, nothing beats observing real world people as they interact with your design!
Heartburst's Nick Dubé facilitating usability testing with Hannah from AEPCC (Orygen head office in Parkville, Melbourne)
Positive Impact
This site is all about facilitating positive impact for young people experiencing psychosis and will bring together the national early psychosis community like never before.  Creating an engaging user experience will help people find and engage with the life changing initiatives of AEPCC.
For researchers, this site enables them to connect with a national clinical trials network (CTTN). The AEPCC CTTN will be an enabling platform to facilitate early psychosis research across Australia, the first of its kind in youth mental health and early psychosis.  
For clinicians,  The AEPCC Clinical Quality Registry (CQR) will help the early psychosis community better understand outcomes for young people with early and emerging psychosis. The AEPCC CQR is the first clinical quality registry in the Australian mental health sector.
And of course, young people – we have designed this site to ensure young people from all walks of life feel safe and welcomed. The early psychosis lived experience community is central to AEPCC's work.  
The Heartburst team was humbled to contribute to this wonderful initiative and we are confident in its long term and far reaching impact.